Delivering the next generation of software for unmanned underwater systems
Skarv Technologies delivers software- and hardware solutions for autonomous robotic systems operating in the marine environment, specializing in applications that require a high degree of self-dependence and robustness. We are experts in creating mission critical software infrastructure to operate and scale robotic fleets. We believe that ocean exploration deserves capable and reliable autonomous software to acquire data effectively, safely, and with unprecedented accuracy.
Skarv Underwater Vision System
The Skarv Underwater Vision System is an advanced underwater imaging system designed for maritime applications. It features a high-definition underwater camera system equipped with stereo-vision technology for unparalleled object detection, damage detection, and 3D reconstruction capabilities. The system also has the ability to create image mosaics and capture high-definition underwater video. The Skarv Underwater Vision System provides users with a reliable and effective tool for underwater imaging, making it ideal for a range of applications such as shallow/deep marine surveys, subsea inspection, aquaculture, and environmental monitoring.
Skarv Autonomy Engine
Skarv Technologies proprietary autonomy architecture, navigation solution, and unmatched situational awareness (driven by real-time data streams) provide an ideal platform to automate a wide range of tasks underwater, such as autonomous net- and hull cleaning, coverage mapping, pipe tracking, subsea inspection, damage detection, etc. We also provide adaptive mission planning capabilities to support long duration missions at full ocean depth, as well as simulation and optimization software. Reduce time and cost while also increasing the prospect of retrieving relevant data. Our software is flexible and can be implemented on various platform and tailored to perform a wide range of tasks.
Skarv Data Studio
The Skarv Data Studio allows you to do complex data processing and analysis. This includes modern machine vision and intelligence methods such as: machine learning, object detection, segmentation, and classification. The system is tailored for data streams captured in the ocean such as 2D/3D video, point clouds, hyperspectral imaging, acoustic imaging and communications, and typical time-series data. The Skarv Data Engine is integrated with the autonomy and underwater vision system and provides a seamless route from optimal collection to data refinement and understanding.
Skarv Robotics
Skarv is currently developing a series of small and generic autonomous underwater vehicles (AUVs) capable of carrying a range of different sensors down to 300m depth with a 12 hrs operation time depending on application. The AUVs are capable of both remote and autonomous operation. Control and execution can be conducted with tether-based operations or from unmanned surface vehicles (USVs). A USV-AUV system is in development together with our partner Maritime Robotics.
As a continuation of the "Renere Havn Bergen" project, Skarv Technologies is currently conducting a high resolution optical survey of Bergen harbour (Vågen) Bryggen. The goal is to provide a high resolution orthomosaic map of the seafloor for purposes of clean-up and removal of trash and pollution, as well as archeology. We are using our new camera system designed for close-range optical surveys using a combination of high resolution color and monochromatic stereo-vision. Read more about the project by clicking the title above. ​
Skarv Technologies will participate in the EU-project OLAMUR (Offshore Low-trophic Aquaculture in Multi-Use scenario Realization) by providing autonomous technology to inspect and monitor offshore wind-parks and aquaculture facilities. Skarv Technologies will again join forces with Maritime Robotics to perform groundbreaking research within multi-vehicle control and underwater autonomy. The autonomous remotely operated underwater vehicle AROV will be used to perform underwater surveys in wind and aquaculture farms remotely and provide vital data about structural integrity and environmental conditions.
We have recently published an article describing our work doing autonomous mapping and characterization of marine debris in urban water bodies. The full text article is available at arxiv.org, while a interview and video-story is published in New Scientist. The work is supported by Handelens Miljøfond project number 12458, and the ATOM project, funded by the Research Council of Norway (project number 321592).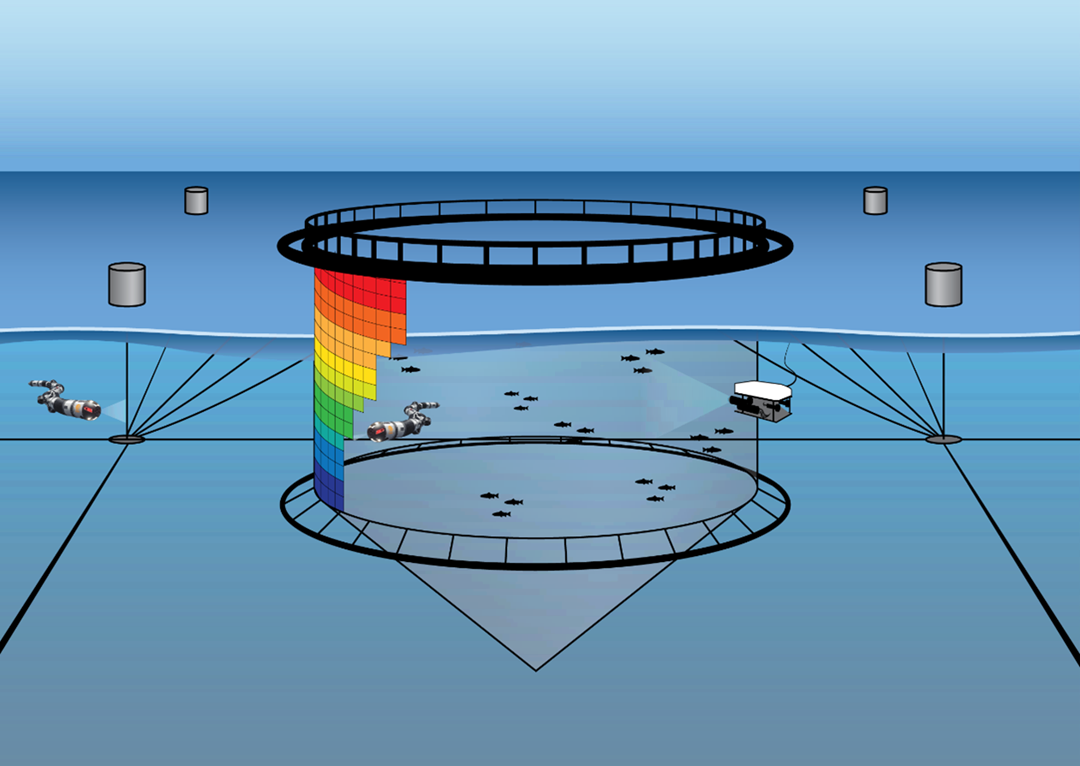 Together with SINTEF Ocean, The Norwegian University of Science and Technology (NTNU), and Eelume AS, Skarv Technologies have been granted a 4-year NFR-project for developing new autonomy solutions for the aquaculture industry. The ResiFarm envisions reshaping the underwater operations in dynamic, complex and perceptually-degraded environments by developing new knowledge and novel technology to enable resilient autonomy for Unmanned Underwater Vehicles (UUVs). You can read more about the project by clicking the title above.
As a part of the "Renere Havn Bergen" project, Skarv Technologies is currently conducting a large optical survey of Store Lungegårdsvann. The goal is to provide a high resolution orthomosaic map of the seafloor for purposes of clean-up and removal of trash and pollution. Read more about the project and read the reports by clicking the title above.
The ATOM project
Together with Maritime Robotics AS (MR) and Ecotone AS, Skarv Technologies have been granted a 2-year NFR project for autonomous mapping using AUVs and USVs. The project seeks to develop an effective and intelligent solution for seafloor mapping using an underwater hyperspectral imager from Ecotone carried on a Skarv AUV; that is deployed from a surface USV platform from MR. The system will have a broad market appeal within aquaculture, subsea inspection, and environmental mapping.
Join us!
Skarv Technologies is hiring! We are currently seeking software engineers with an international profile that has experience in marine technology and autonomy systems. Preferably with a PhD education level and experience with academic research. To get more information and apply sending us an e-mail with your CV and contact info.