Delivering the next generation of software for unmanned underwater systems
Skarv Technologies AS is founded by four PhDs from the Norwegian University of Science and Technology,  Centre for Autonomous Marine Operations and Systems, and the Applied Underwater Robotics Laboratory. Skarv delivers software- and hardware solutions for autonomous robotic systems operating in the marine environment, specializing in applications that require a high degree of self-dependence and robustness. We are experts in creating mission critical software infrastructure to operate and scale robotic fleets. We believe that ocean exploration deserves capable and reliable autonomous software to acquire data effectively, safely, and with unprecedented accuracy.
Skarv Technologies will participate in the EU-project OLAMUR (Offshore Low-trophic Aquaculture in Multi-Use scenario Realization) by providing autonomous technology to inspect and monitor offshore wind-parks and aquaculture facilities. Skarv Technologies will again join forces with Maritime Robotics to perform groundbreaking research within multi-vehicle control and underwater autonomy. The autonomous remotely operated underwater vehicle AROV will be used to perform underwater surveys in wind and aquaculture farms remotely and provide vital data about structural integrity and environmental conditions.
We have recently published an article describing our work doing autonomous mapping and characterization of marine debris in urban water bodies. The full text article is available at arxiv.org, while a interview and video-story is published in New Scientist. The work is supported by Handelens Miljøfond project number 12458, and the ATOM project, funded by the Research Council of Norway (project number 321592).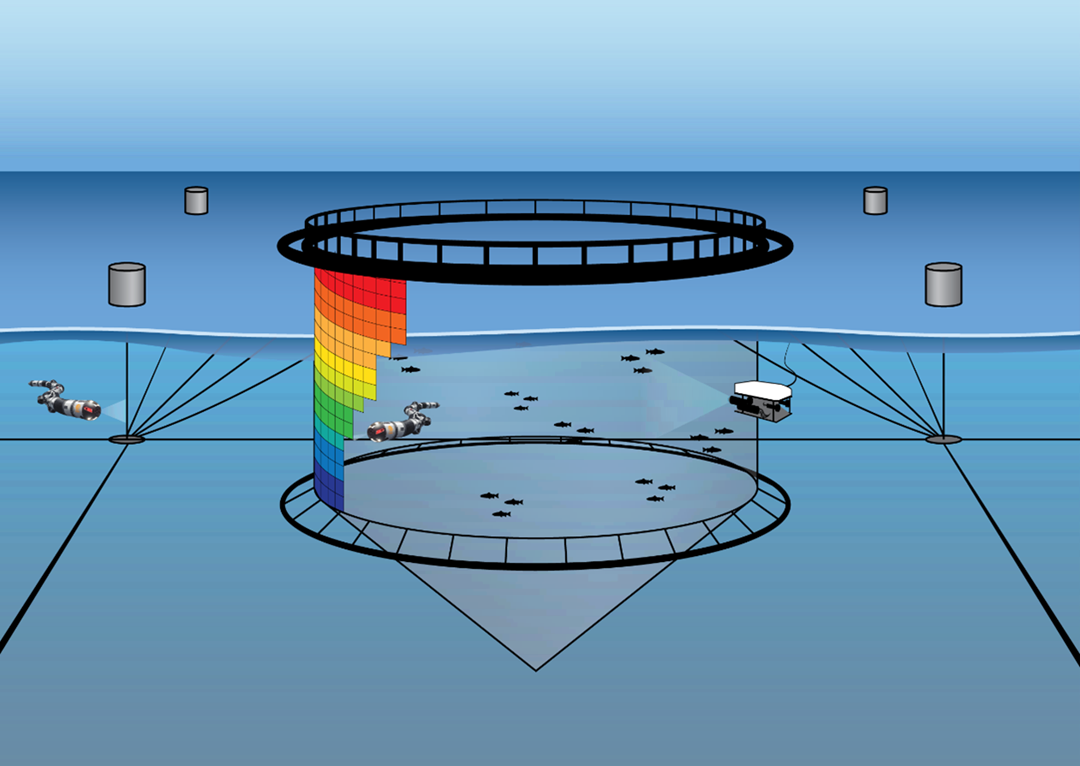 Together with SINTEF Ocean, The Norwegian University of Science and Technology (NTNU), and Eelume AS, Skarv Technologies have been granted a 4-year NFR-project for developing new autonomy solutions for the aquaculture industry. The ResiFarm envisions reshaping the underwater operations in dynamic, complex and perceptually-degraded environments by developing new knowledge and novel technology to enable resilient autonomy for Unmanned Underwater Vehicles (UUVs). You can read more about the project by clicking the title above.
As a part of the "Renere Havn Bergen" project, Skarv Technologies is currently conducting a large optical survey of Store Lungegårdsvann. The goal is to provide a high resolution orthomosaic map of the seafloor for purposes of clean-up and removal of trash and pollution. Read more about the project by clicking the title above.
The ATOM project
Together with Maritime Robotics AS (MR) and Ecotone AS, Skarv Technologies have been granted a 2-year NFR project for autonomous mapping using AUVs and USVs. The project seeks to develop an effective and intelligent solution for seafloor mapping using an underwater hyperspectral imager from Ecotone carried on a Skarv AUV; that is deployed from a surface USV platform from MR. The system will have a broad market appeal within aquaculture, subsea inspection, and environmental mapping.
Join us!
Skarv Technologies is hiring! We are currently seeking software engineers with an international profile that has experience in marine technology and autonomy systems. Preferably with a PhD education level and experience with academic research. To get more information and apply sending us an e-mail with your CV and contact info.